Final Statement regarding Stiftung Warentest (issue June 2014 child car seat test) in relation to the Britax Römer DUALFIX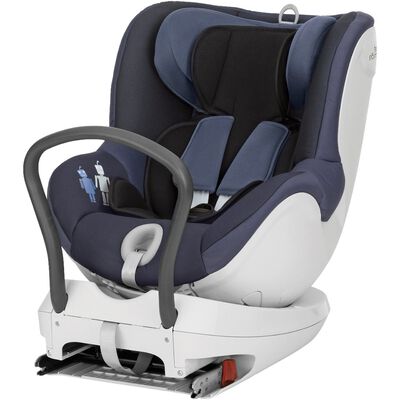 We've now received a response from Stiftung Warentest in written form and based on their response and our independent test data, we respectfully still disagree with the observational test approach and its impact on the overall safety score for the seat.
For any concerned parents, we have developed an informative video:
June 2014, Statement regarding Stiftung Warentest
(issue June 2014 child car seat test) in relation to the Britax Römer DUALFIX
Following the publication of the Stiftung Warentest results on 22nd May, and the Britax Römer DUALFIX   "sufficient" (4.5) result, we have now confirmed after extensive tests, that we totally disagree with this assessment. Based on an objective analysis, the assessment and score appear to be without justification.
Looking at the information available in the publication we understand that this score was driven by an "insufficient" score in the belt routing, determined through a visual observation, which affected the score for the seat construction.
Our disagreement is based on the numerous, objective tests including:
Regulatory tests to approve the seat:  These tests are conducted with the smallest crash test dummy (a P0), which is used as a newborn equivalent in Regulation ECE R44 04 TESTS.
Dynamic tests, simulating a child in our seat inside a car during a frontal and side crash impacts, carried out by ADAC in Landsberg in December 2013 using their test protocol.
Numerous additional frontal crash tests, including ADAC simulations, using an alternative newborn crash test dummy - a Q0. This dummy is equipped with even more sensors than a P0 to measure forces, but is not even part of the Stiftung Warentest protocol or used by them in their assessment. We have used this most modern dummy to fully assess the criticism over the length of our harness installation for a newborn.
Additional rollover static tests under ECE Regulation 44 04 Supplement7 (which came into force in February 2014) using a P0 newborn dummy. This test simulates the displacement/potential ejection of a  newborn child in a vehicle roll-over scenario. The DUALFIX passes this objective test and we cannot therefore accept or understand Stiftung Warentest's claim (based on a visual assessment and not on objective test results or data) that the DUALFIX has any issue with harness length or slack.
Based on the objective findings obtained in the above mentioned tests, which we have successfully completed numerous times, we do not see any issues, test results or facts that justify the score of 4.5 for seat construction and a total score for safety of 4.5 ("sufficient").
We have invited the experts from Stiftung Warentest to urgently meet with us and go through the objective test results and data.