Which pushchair is right for me?
Find a pushchair that suits you and your child
Are you looking for the right pram and are overwhelmed by the choice of different models? We are happy to help you!
Our guide shows you what to look out for when buying and how to make the right choice for you and your child.
1. Types of pushchairs
First of all, you should think about which type of pushchair is right for you. This depends mainly on the age of your child.
Pushchairs from birth
For newborns it is especially important that they lie as flat as possible to ensure a healthy development of the back and spine.
Therefore we recommend for newborns and babies to use a carrycot. It protects your baby safely and comfortably and offers a completely flat lying position.
Ideally, you will have the option to interchange between the carrycot and the infant carrier on your pushchair.
This is especially useful if your baby has just fallen asleep in the infant carrier on a car journey and you don't want to wake them up. As soon as your child is older and can sit independently, you can replace the carrycot with the pushchair seat unit.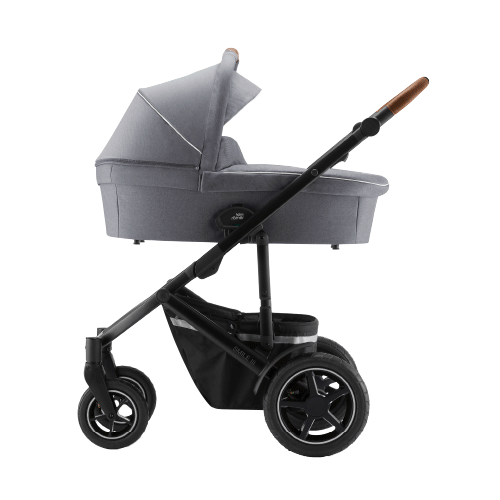 These combination pushchairs are extremely flexible due to the numerous possible combinations and can therefore be used for many years.
These are suitable from birth until your child is approximately 4 years old.
TIP: Explore our 3 -in1 travel system bundles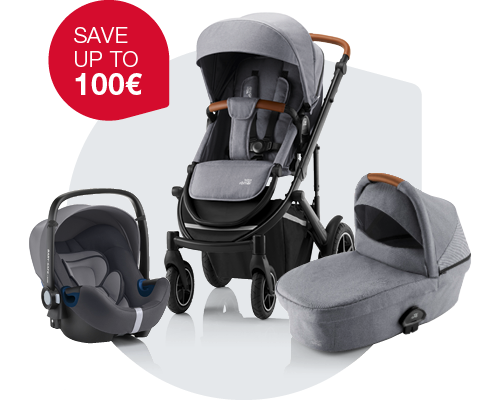 Pushchairs for older babies (6 months +)
If your child is a little older and can sit independently, a stroller is also an option for you.
Strollers are rather light, small and agile. They are often used for older children who are no longer necessarily dependent on a pushchair. The seat unit is often fixed to the front so that the children can discover the world with you.
Are you expecting twins or do you still have a second child of pram age?
There's a solution for that, too:
Both combination strollers and buggies are also available as twin or sibling pushchairs. Here the children sit either next to each other, behind each other or slightly staggered one above the other.
Sometimes the second seat unit can also be completely removed, so that the stroller can only be used by one child at a time. This makes it particularly helpful for parents who do not yet have a second child but are planning to have more children soon.
2. Important questions you should ask yourself
Regardless of the type of pushchair, there are a few questions that will help you decide which pushchair is right for you:
Where will you use the pushchair most?
Do you live in the country or in the city? Where do your family trips take you?
If you are often out and about in the country or push your pushchair over cobblestones, it makes sense to take a closer look at the suspension and tyre types.
Suspension
A good suspension is an absolute must for those all-terrain excursions. Not only does it make it easier for you to push your child, they will also thank you if he or she does not feel every vibration, enabling peaceful naps even when on bumpy roads.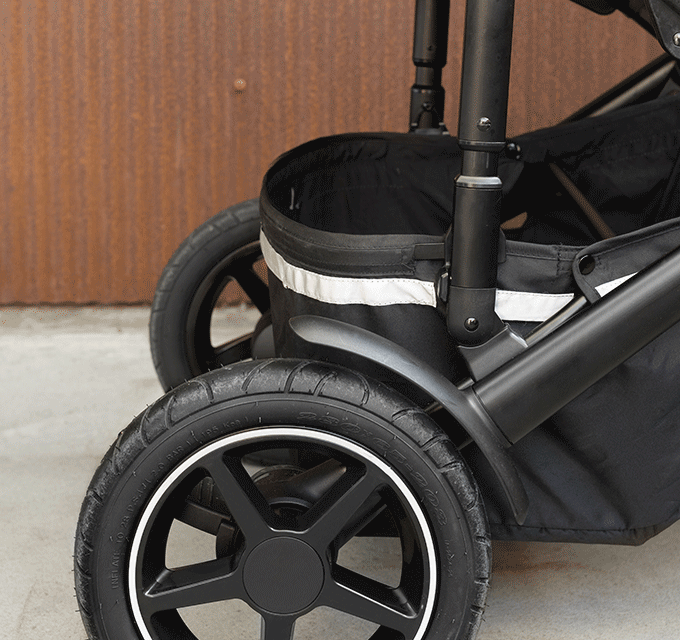 Swivel or lockable wheels
Fixed wheels can also be a real asset if you travel extensively off-road. They help to maintain stability.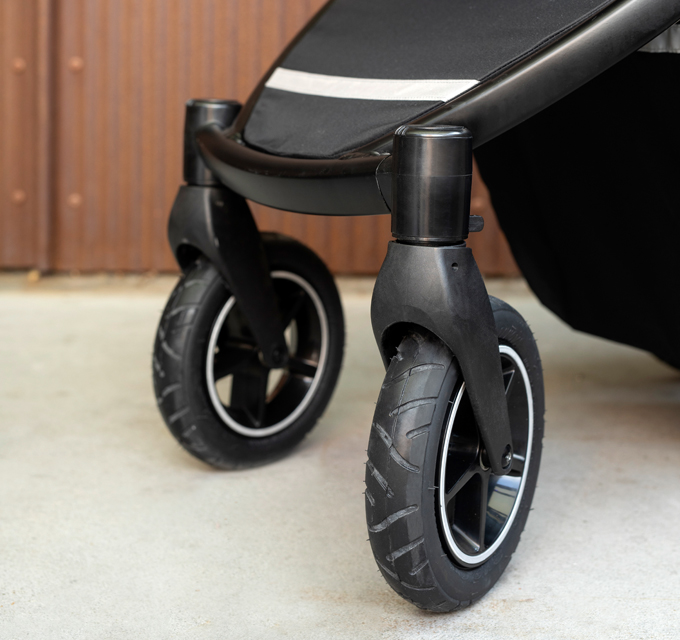 TIP
Even as a true outdoor fan, you will not always be out and about. Therefore, we recommend pushchairs that are equipped with lockable wheels. In narrow supermarket aisles for example you can take advantage of the swivelling wheels and as soon as you head out into nature, you simply lock the wheels.
Wheel type
A further point for consideration in the selection of a pushchair is the type of tyre.
There are air tyres and hard rubber tyres.
Just like a bicycle, there is a tube in the air wheels. This makes air wheels the perfect companion for all-terrain and cobblestone rides. The only disadvantage is that these tyres can obtain a puncture when out and about. Therefore, try to make sure that the tyres can be easily removed and that the valve is easily accessible to re-inflate and / or change the tyre there and then if necessary.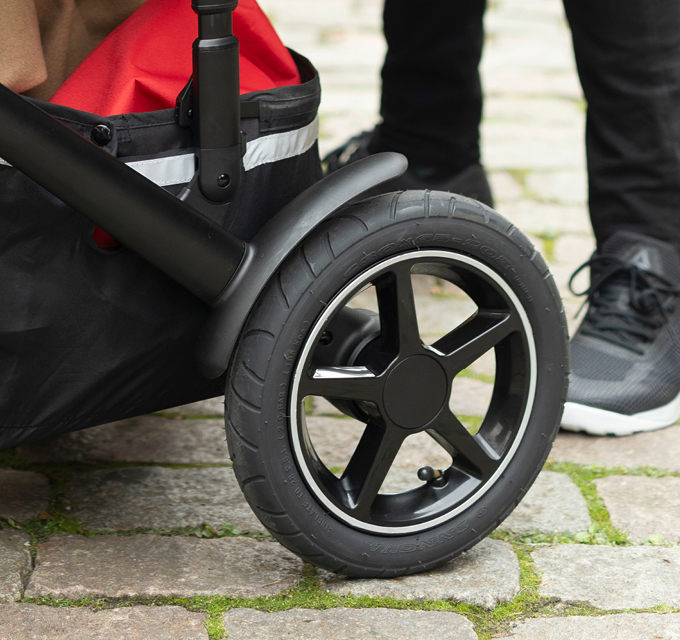 Hard rubber wheels, on the other hand, are absolutely puncture-proof. Neither shards nor nails can harm them. However, the disadvantage dais much less than with air wheels.
Do you travel a lot by a small car or do you have limited space at home?
Folding mechanism
In this case, you should make sure that the pushchair folds down as easily and compact as possible.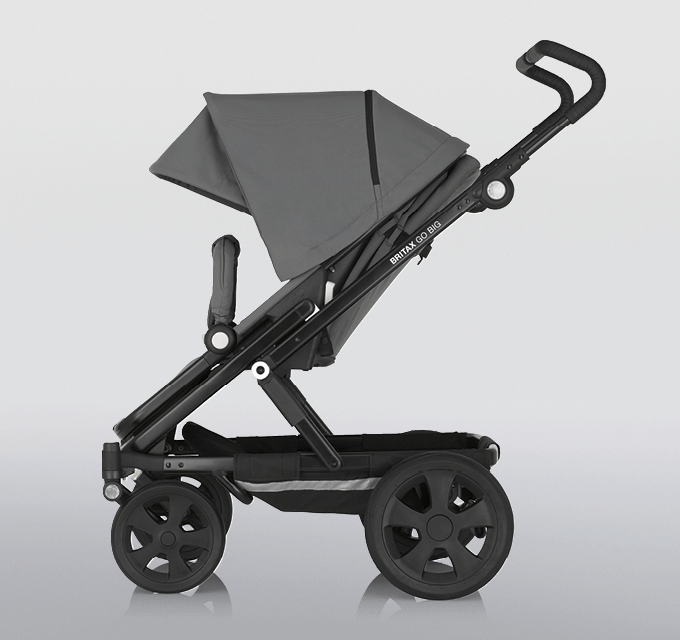 TIP
For some pushchairs, the frame and seat unit must be stowed separately. This of course takes up extra space. When you buy a stroller, you should therefore pay attention to what is most practical for you.
Weight
In addition to the folding mechanism, the weight of the pushchair also plays a role.
Especially if you frequently have to lift the pushchair into the car boot or carry it up the stairs. Therefore, ensure that you can carry and lift the pushchair sufficiently. Of course, it will become heavier when you stow things in the shopping basket under the seat unit.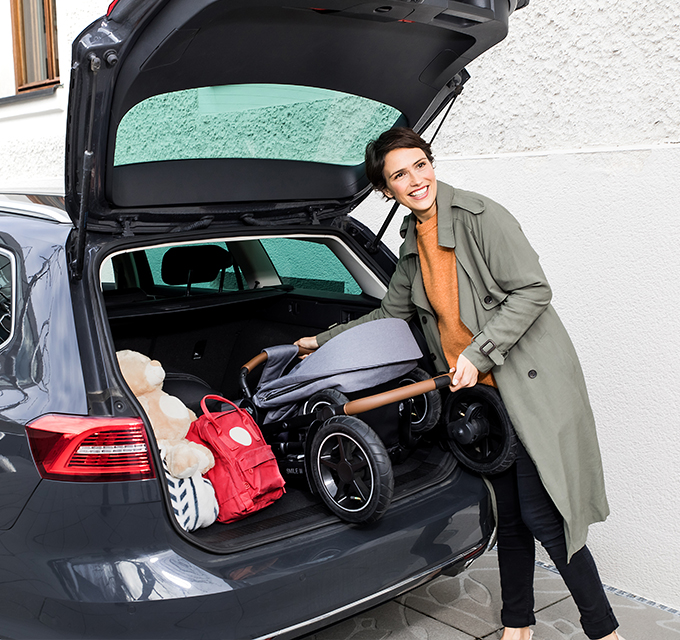 How tall are you or the other users?
Of course, it should also be pleasant for other users to push the pushchair. Pushchairs with height-adjustable handles can be easily adapted to the respective driver - whether it is Mum, Dad, grandparents or a babysitter. Therefore enabling a comfortable journey for the user.
Do you want to change the child's viewing direction as soon as he or she is old enough?
Sometimes even older children need to be close to you, on other days they want to discover the world curiously. In such cases it is helpful if the seat unit of the pushchair is reversible and can be positioned both parent and world facing.
This process of changing from parent facing to world facing or vice versa is even better when little effort is required. This saves time and displeasure for the small passengers.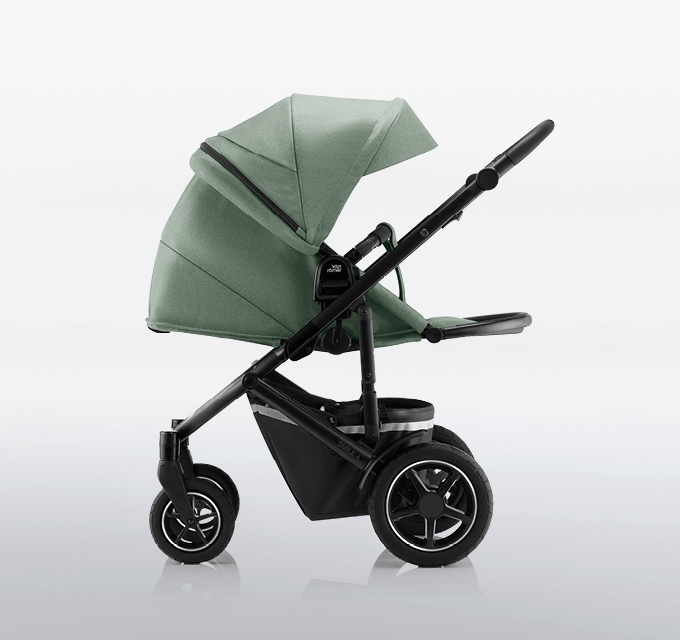 Discover our pushchair range