Car safety specialist BRITAX introduces new technology to protect children in booster seats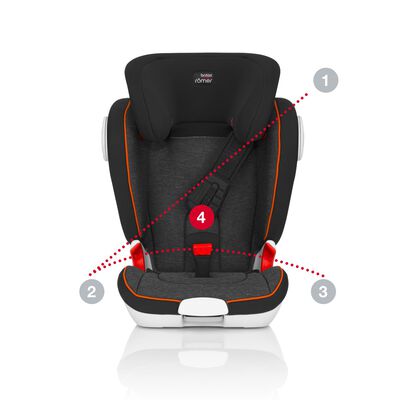 SecureGuard helps to reduce abdominal forces by up to 35% in the event of an accident
UK, October 2015 – Children love to move around in their car seat, but research shows that wriggling, sleeping and turning can compromise their safety – even when secured by a 3-point seat belt in a booster seat (i). Today, responding to concerns from experts and parents (ii), car safety specialist Britax introduces SecureGuard, a seat belt extension proven to reduce abdominal forces in the event of a collision.
Every car journey is an adventure for a child, but in a booster seat the adult seat belt easily rides up to lie across the child's belly due to movement in the car seat. One study (iii) shows that children in highback booster seats spend around 20 minutes of a one-hour drive in a slouched posture, confirming previous studies suggesting that children do not always sit upright in the car.
In the event of an accident, frontal collisions are the most common (iv), and a displaced seat belt in a booster seat makes the abdominal area much more vulnerable. In fact, abdominal injuries in frontal collisions represent 30% of injuries for children in booster seats.
Introducing SecureGuard – the 4-point seat belt
To improve the protection of a child's abdominal area while in a booster seat, car safety specialist Britax has developed a solution to prevent the lap belt from moving upwards during the course of a car journey. SecureGuard is an extension that is easily clipped onto the existing seat belt, making it a fourth anchor point which ensures that the adult lap belt remains in the optimal position over the pelvic bones, even when a child moves around in their seat. It's the first time this technology has been used in Europe, further establishing Britax as a safety leader.
Car crash tests (v) show that the technology reduces the abdominal forces by up to 35% compared to a car seat not using SecureGuard, keeping children in the safest possible position within their seat while allowing them freedom to move.
Paul Gustavsson, CEO Britax Childcare says: "Anyone who has travelled with a child knows that they like to move about in their seat, and a parent's main concern is to care for their safety while they do so. This innovative technology is proven to keep children safer in booster seats, so we are very proud to bring it to parents all over Europe."
SecureGuard is now available with the highly popular highback booster seats from Britax – the new KIDFIX II XP range, exclusively available through Mothercare with prices starting from £155 in the range. The new ADVANSAFIX II range with SecureGuard, a Group 1-2-3 combination seat, will also be available in selected retailers from October 2015, priced from £250.
- ENDS -
Sources:
(i) Booster seats are recommended for children aged around 4-12 years old.
(ii) A total of 4,526 European respondents took part in an online survey about car safety concerns conducted by independent research agency Research Now, in March 2015. All participants had children between the ages of 0-11 years. 1,000 parents with children under 11 from the UK, France and Germany participated, with at least 500 in each market with children aged 0-4 years of age. 500 parents with children under 11 from Spain, Poland and Sweden, with at least 250 in each market with children aged 0-4 years.
(iii)Older Children's Sitting Postures, Behaviour and Comfort Experience during Ride – A Comparison between an Integrated Booster Cushion and a High‐Back Booster, IRCOBI Conference 2013
(iv) Gidas Germany 1999-2009 data showed that 37% of car accidents are frontal impact collisions, 24% are multiple impacts, 20% are side impacts and 19% are rear impacts.
(v) Britax internal tests with a Q6 dummy, representing an average 6 year old child.