The BOB REVOLUTION PRO® will let you run, stroll or shop anywhere with your little one in town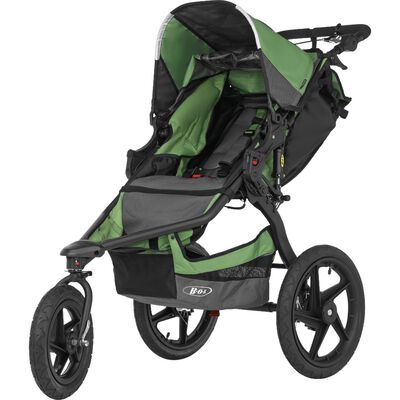 Today, sporty outdoor stroller brand, BOB from BRITAX, unveils its new all-terrain power pushchair, the BOB REVOLUTION PRO. At last, parents can be a proud owner of the FIRST pushchair on the market that has a swivel wheel which is SAFE and APPROVED* for running and skating in the UK and Europe. So adaptable and easy to use, it is also the perfect everyday stroller for any family - so whether you're looking for a pushchair that's easy to manoeuvre around town or something sturdy for those off-road family walks, the versatile REVOLUTION PRO is adaptable to your every need.
Ed Hart, UK & Ireland Business Development Manager - BOB, from BRITAX remarks, 'This latest addition to the range of outdoor strollers from BOB has been perfectly designed and carefully thought through to provide parents with the ultimate and unbeatable outdoor everyday stroller. Active parents want a one-stop solution, a stroller they can run, walk and shop with. They also want peace of mind that their child is safe and that the stroller is hard wearing with great quality fabrics. The BOB REVOLUTION PRO ticks all those boxes."
The PRO features;
a newly designed drum handbrake that provides additional stopping assistance for tricky downhills

a flexible front wheel which can swivel for superior manoeuvrability when on pavements and in shops

a front wheel lock for increased stability when being used for running or skating

front wheel tracking adjustment which allows parents to reposition and fix the front wheel. This helps to keep the stroller rolling straight when being used for running

a unique two-step fold mechanism allows the BOB to fold quickly and efficiently and the quick release wheels allow ease of fitting into almost any car boot

a state of the art suspension which provides different settings depending on the weight of the child and the surface you are on

large, polymer composite wheels, which unlike normal plastic pushchair wheels, are designed to take high impact shocks when pushing the stroller over rough or uneven terrain

a secure five-point harness, keeps your little one in place when jogging over rough terrain and makes them feel safe and secure at all times

a fantastic multi-position overhead canopy helps protect your baby from all the elements and the large viewing window helps you keep an eye on your child

an easy height adjustable handle allows either parent to have the perfect pushing or running position

the high quality black powder coated anodised frame keeps the PRO looking sleek and smart
So, why would you want a PRO? For many new parents, shifting some baby weight, is a key priority and the PRO is the perfect stroller to help families get up, out and active. Whilst running with your stroller is great fun and great exercise it is only safe to do so when the baby is strong enough to withstand bumpy ground when moving at a faster pace - around 9 months old. As a child safety leader, BRITAX recommends that parents consult their doctor before running or exercising with a BOB stroller and always refer the user manual to ensure all safety measures and checks have been completed before setting off with a child in tow.
The PRO can be used from newborn in conjunction with a carrycot or an infant carrier.
The BOB Revolution PRO retails at £455.
To see more from the BOB range, click on www.bobgear.co.uk
-ENDS-
* approved by TUV, world leading technical service providers of testing and product certification. The TUV stamp of approval provides peace of mind to parents that products are safe, reliable and compliant. For more information, visit http://www.tuv.com/en/corporate/about_us_1/aboutus_1.html
Notes to Editors
The BOB Revolution PRO can be used in conjunction with any of the accessories currently available on the market for the BOB range. These include a Sun Shield, Snack Tray, Warm & Fuzzy cosytoes, Weather Shield and Travel Bag. There is also a bespoke infant carrier adapter allowing the BOB pushchairs to be used with the BRITAX BABY-SAFE infant carriers seats and the BOB hard carrycot.
BOB was acquired by BRITAX in 2011 and the BOB product portfolio was launched into the European market in 2012.
BRITAX has been manufacturing child car seats and travel systems since 1966.
BRITAX has design centres in Germany and the UK where designers and engineers use state-of-the-art facilities, including their own test rigs, to pioneer innovative products and set safety standards, such as ISOFIX technology. The expertise BRITAX develops is regularly shared with governmental and safety experts worldwide.
Top European test organisations, such as independent motoring and consumer organisations consistently rate BRITAX amongst the best - and constantly exceed legal safety requirements. BRITAX are the car seat of choice in 78% of vehicles tested by Euro NCAP based on 2007 crash-test results.