Life is a Journey: BRITAX RÖMER launches BABY-SAFE i-SIZE infant carrier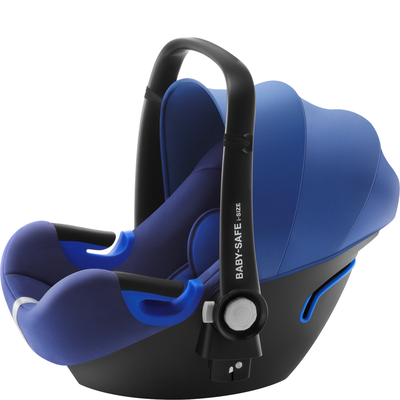 London, July 2016 – Life is a journey that can start safely with the launch of Britax Römer's BABY-SAFE i-SIZE infant carrier. Designed with Britax Römer's renowned crash testing capabilities and research, it conforms to the new car seat regulation ECE R129 (i-Size) and is suitable for newborns up to 15 months, with 83cm of space. The BABY-SAFE i-SIZE can be used with one of two new bases, including a one-of-a-kind FLEX BASE that allows parents to adjust the angle, providing an ergonomic, flatter position for their baby.
BABY-SAFE i-SIZE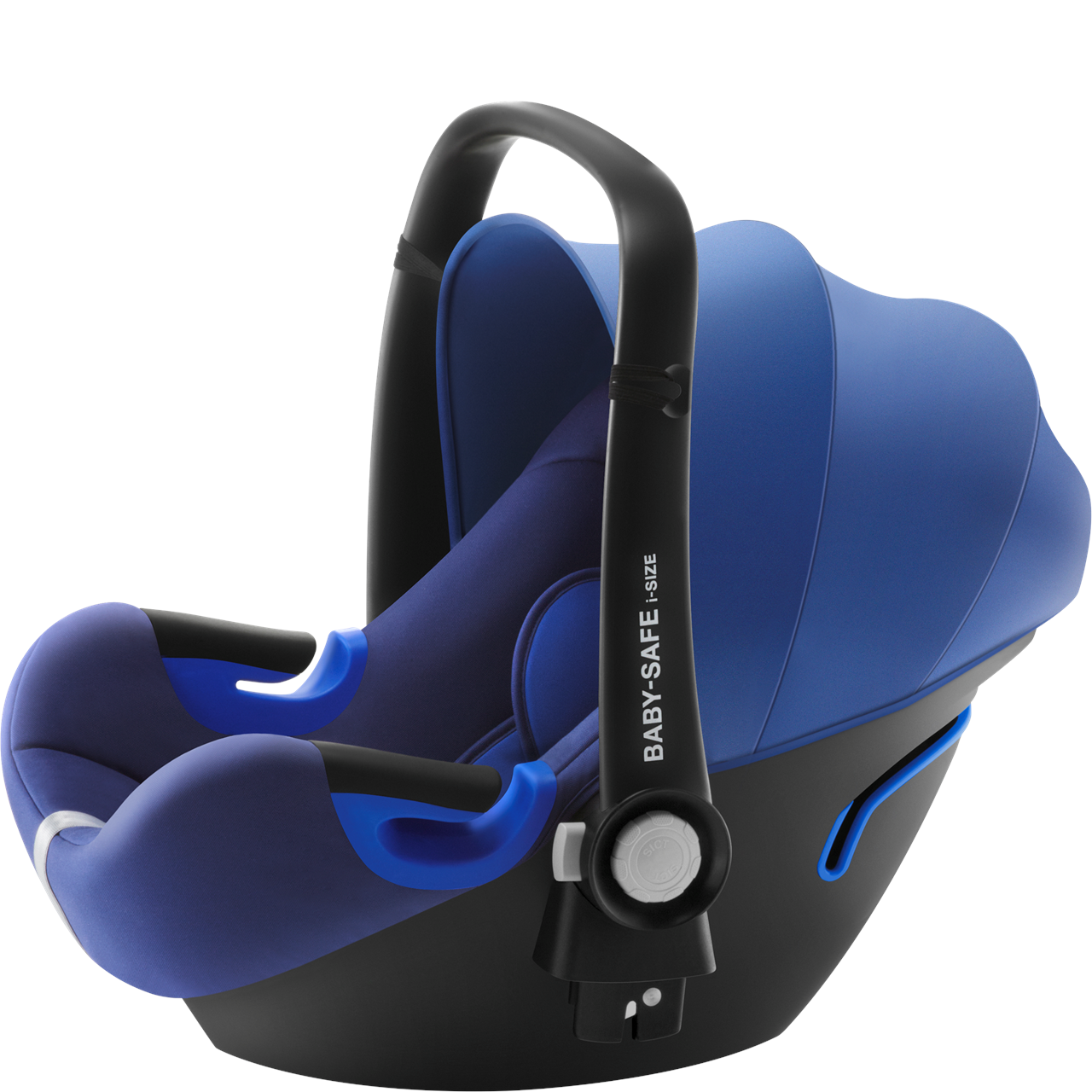 (BABY-SAFE i-SIZE in Ocean Blue)
"i-Size is a big step in our industry towards simplifying car seat safety for parents and raising the bar on existing standards. We are excited to launch our new i-Size infant carrier that incorporates Britax Römer's unique technology, research and testing expertise," said Rainer Stäbler, Managing Director Europe, Britax. "The BABY-SAFE i-SIZE aims to help newborn parents feel confident when they embark on the road for the first time with their new arrival. They can rest assured that they are purchasing Britax Römer's deep-rooted commitment to child safety and can enjoy everyday family freedom right from the start."
Room to Grow – Suitable from Birth to 15 Months
BABY-SAFE i-SIZE has been designed to conform to the new car seat regulation ECE R129 (i-Size) and is suitable from birth to 83cm. The infant carrier has a newborn insert for extra support that offers energy absorption in case of an impact. The insert can be removed and the height of the headrest adjusted, allowing for more space as the child grows. Since the majority of infants have a height of 83cm or less at 15 months, parents won't be scrambling to purchase a new child car seat before the baby reaches 15 months.
Patented lie-flat technology for safety and comfort
It is often difficult to decide the best lying position for small newborns during a car journey. Because a small baby's muscles aren't developed enough, a flatter lying position is better. However, a more upright position is safer in the event of an impact. The BABY-SAFE i-SIZE has patented lie-flat technology offering parents an easy solution according to the height of the child. The position changes automatically when adjusting the headrest, increasing the space to suit the child's development. The shoulder straps also adjust automatically when adjusting the headrest.
Adjustable to the most comfortable yet safe angle for your baby
Vehicle car seats come at different angles – some are steeper than others. This also impacts the angle at which the baby lies in the infant carrier that is installed on the car seat. In cars with inclined vehicle seats, a baby's head may tip forwards when they are in an infant carrier. The BABY-SAFE i-SIZE FLEX BASE, the unique base angle can be adjusted, providing an ergonomic, flatter position for the baby, keeping them comfortable and safe. The base can easily be adjusted to four different positions and also includes a handy indicator to show when the angle is too flat.
Superior safety with SICT and five-point harness
Britax Römer's improved Side Impact Cushion Technology (SICT) offers superior protection in case of a side collision in two steps. It pushes the child away from the impact in a controlled movement and then reforms to absorb energy exerted onto the infant. The five-point-harness keeps children safe and tight in the protective shell of the seat. In case of a collision, the harness distributes the forces of the impact across five points, to help protect infants from all directions of impact.
Safe and easy installation every time
Because parents will be moving the infant carrier in and out of the car many times, especially in the first months, installation and removal is made easy with the BABY-SAFE i-SIZE FLEX BASE or the BABY-SAFE i-SIZE BASE. The bases remain in the car, fixed to the ISOFIX connection points, and the infant carrier simply clicks on and off the base as needed. Indicators on the bases show if the infant carrier is installed on the base correctly, providing parents with peace of mind on every journey.
BABY-SAFE i-SIZE FLEX BASE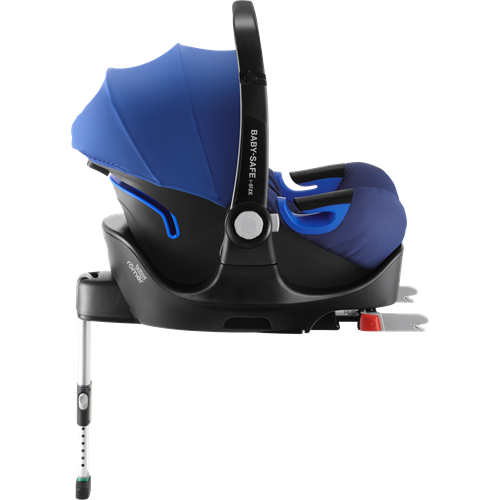 (BABY-SAFE i-SIZE on BABY-SAFE i-SIZE FLEX BASE)
The BABY-SAFE i- SIZE is compatible with all Britax Römer pushchairs. It is also compatible with many pushchairs from other leading pushchair brands with the use of a dedicated adaptor.
The BABY-SAFE i- SIZE infant carrier and FLEX BASE bundle is available from September 2016 with an RRP of £300* and is available in Cosmos Black, Flame Red, Ocean Blue, Mineral Purple, Storm Grey and Olive Green, with additional colours to follow.
For more information, please go to www.britax.co.uk
*The infant carrier can be purchased alone for £165 but must be used with a compatible base in order to meet i-SIZE requirements. The standard base or FLEX BASE can also be purchased alone for £130 and £150 respectively.
# # #
For more information about BRITAX please contact Threepipe:
Telephone: 0207 632 4800
Email: Britax@threepipe.co.uk
About Britax
Britax is a global leader and innovator in child mobility dedicated to making family travel safer and easier throughout the journey of parenthood. Specialising in a complete range of premium car seats, strollers, baby carriers and accessories that meet modern family lifestyle needs, Britax's mission is to inspire families to travel more freely, confident of safety, sure of style.
Britax was founded in Britain in 1938 focusing initially on safety developments such as adult seat belts. In the 1960s they launched the company's first child car seat. In 1978, it merged with established German car safety counterpart Römer. More recently, Britax acquired the hugely popular outdoor stroller brand BOB in 2011 and the BRIO pushchair and car safety business in 2013. In 2016 the company is celebrating the 50th anniversary of its first child car seat.
Now Britax maintains offices in 12 countries, operates in almost all countries globally and employs more than 1000 people.